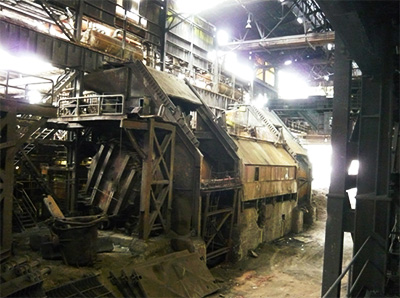 Converter Retrofit Project
Client: ASARCO

Location: Hayden, Arizona
Landmark EPA legislation created new ground level  NAAQS. This standard imposes limitations for smelter operations to be enforced in 2017.
GCT has developed a project from Concept through to Detailed Engineering to improve SO2 emissions from Converter operations that will provide confidence  to achieve the  new ground level concentration limit of 75 ppb on a 1-hour average.
Key project elements:
Replace 5 converter operation with 3 larger converters, complete with controls, feed systems, ladles and tuyere punchers.
Improve hooding and off gas collection system to minimize potential fugitives to achieve > 99% SO2 fixation.
Install new ESP, fans, water cooled hoods, secondary hoods and damper controls.
Retrofit 1911 era building to accommodate new larger converters, ancillary equipment and install a roof canopy system for tertiary ventilation.
Upgrade plant infrastructure to include; blast air blowers, compressed air, cooling towers, electrical substation.
Total estimated project cost: ~ $110 Million
Project History
Conceptual Engineering
Basic Engineering
Detailed Engineering
Construction Phases
2010
2011-12
2013-16
2016-17
Project approach and role